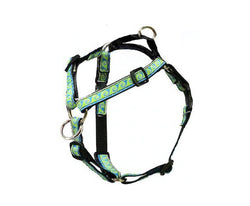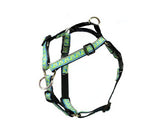 Soft Pull 2 in 1 Comfort Harness - XSmall
NEW! Soft Pull 2 in 1 Comfort Harness
Love the easy way to put on your dog's Step In Style harness, but need the control of a front leading harness?
The Soft Pull 2 in 1 Comfort Harness may do the trick ! With a soft pull cinch piece  for leash attachment over the shoulders or the second option of hooking a leash to the D ring at the chest its the walkers choice!
Easy to get on the dog and comfortable for the dog to wear while walking, running or swimming!
X-small - 1/2" width webbing with Stylish Silverfoot Patterns,  fits 12-18 inches / 30-45 cm
Do you need a new leash?  Check out our 5ft 1/2"  (item# 4951) leashes to match!